Departure date:
22 March 2020
26 April 2020
24 May 2020
28 June 2020
12 July 2020
26 July 2020
09 Aug 2020
16 Aug 2020
13 Sept 2020
11 Oct 2020
Commissionable rates in USD per person in DBL/TWN room
| | | | | | | |
| --- | --- | --- | --- | --- | --- | --- |
| Dates | 22 Mar | 26 April | 24 May; 28 June | 12; 26 July; 9; 16 Aug | 13 Sept                 | 11 Oct |
| DBL/TWN p/pax | 575 $ | 640 $ | 920 $ | 875 $ | 830 $ | 640 $ |
| SGL supplement | 65 $ | 95 $ | 280 $ | 230 $ | 180 $ | 95 $ |
Inclusions:
Accommodation in St. Petersburg in 4* international chain hotels (Park Inn Pribaltjskaya, Park Inn Pulkovskaya; Holiday Inn Mokovskie Vorota or similar 4*) – 3 nights;
Meals: 3 BF; 2 LN; 0 DN
A/c transport as per itinerary
Arrival / Departure transfers without guide
English-speaking guide as per itinerary
Entrance fees as per itinerary
Visa support letter
St. Petersburg 4 days / 3 nights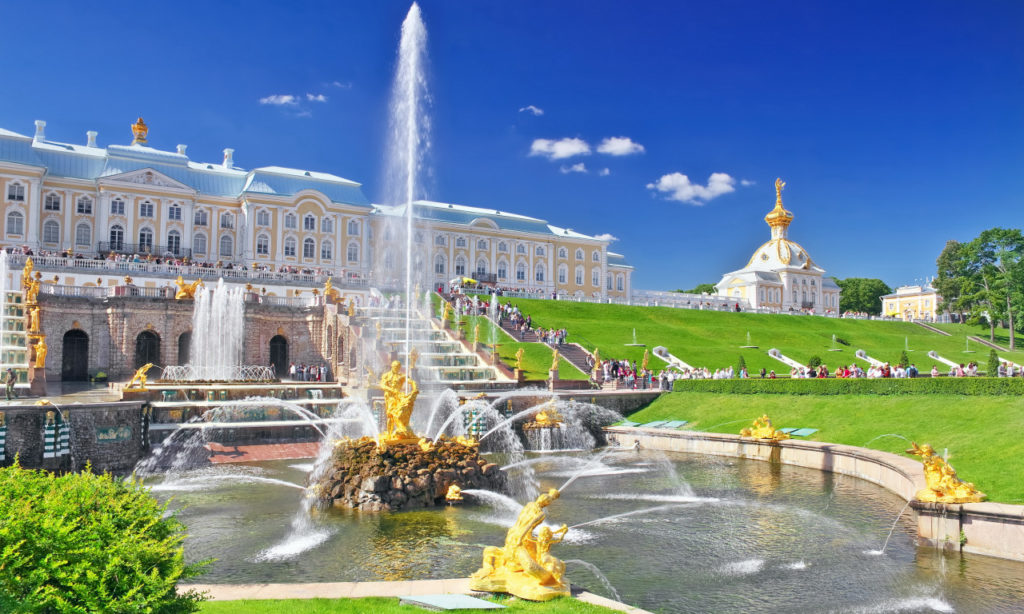 Day 1 Arrival to St. Petersburg
Meeting at the airport // railway station.
Transfer to the hotel and accommodation.
Check-in time after 15:00 hrs.
Day 2 St. Petersburg (B/L)
Breakfast at the hotel.
At 09:30 from hotel
City tour – Enjoy St. Petersburg on a guided city tour: St. Isaac's Cathedral, the Winter Palace, Nevsky Prospect, Kazan Cathedral, the Admiralty and more (all from outside) Saint Petersburg was considered to be the key for paradise for Russian Empire. St. Petersburg is the imperial city of golden spires, golden domes, pastel palaces and picturesque canals. With its arrow-straight avenues, leafy parks and lovely architecture, it is called the Northern Venice.
Visit Cathedral of Saint Isaac stands out among many architectural works of art. It was built in late neo classical style, and it building lasted for about 40 years. Gold plated cupola is possible to see from almost every part of town, and from its top you can enjoy in the view to whole town. Cathedral is sainted in year 1858 and it is main Petersburg's church where many royal family members were baptized. Today it is one of the most visited museums in Petersburg.
Lunch
Visit Pavlovsk is a municipal town in Pushkinsky District of the federal city of St. Petersburg, Russia, located 30 kilometers south from St. Petersburg proper and about 4 kilometers southeast from Pushkin. The town developed around the Pavlovsk Palace, a major residence of the Russian imperial family. Catherine the Great liked the nature in Pavlovsk area and frequently visited it for hunting trips.
Day 3 St. Petersburg (B/L)
Breakfast at the hotel.
At 09:30 from hotel
Visit The State Hermitage Museum is a museum of art and culture in Saint Petersburg, Russia. The second-largest art museum in the world, it was founded in 1764 when Empress Catherine the Great acquired an impressive collection of paintings from the Berlin merchant Johann Ernst Gotzkowsky. Its collections, of which only a small part is on permanent display, comprise over three million items (the numismatic collection accounts for about one-third of them), including the largest collection of paintings in the world.
Lunch
Visit Peterhof:
Visit The Lower Gardens – The expanse of the Lower Gardens is designed in the formal style of French formal gardens of the 17th century. Although many trees are overgrown, in the recent years the formal clipping along the many allees has resumed in order to restore the original appearance of the garden. The many fountains located here exhibit an unusual degree of creativity.
Visit The Grand Palace – The largest of Peterhof's palaces looks truly imposing when seen from the Lower or Upper Gardens, but in fact it is quite narrow and not overly large. Of its approximately thirty rooms, several deserve mention.
Day 4 St. Petersburg – Moscow
Breakfast at the hotel.
Check-out before 12:00
Transfer to airport / railway station.
St. Petersburg 4 days / 3 nights